[ad_1]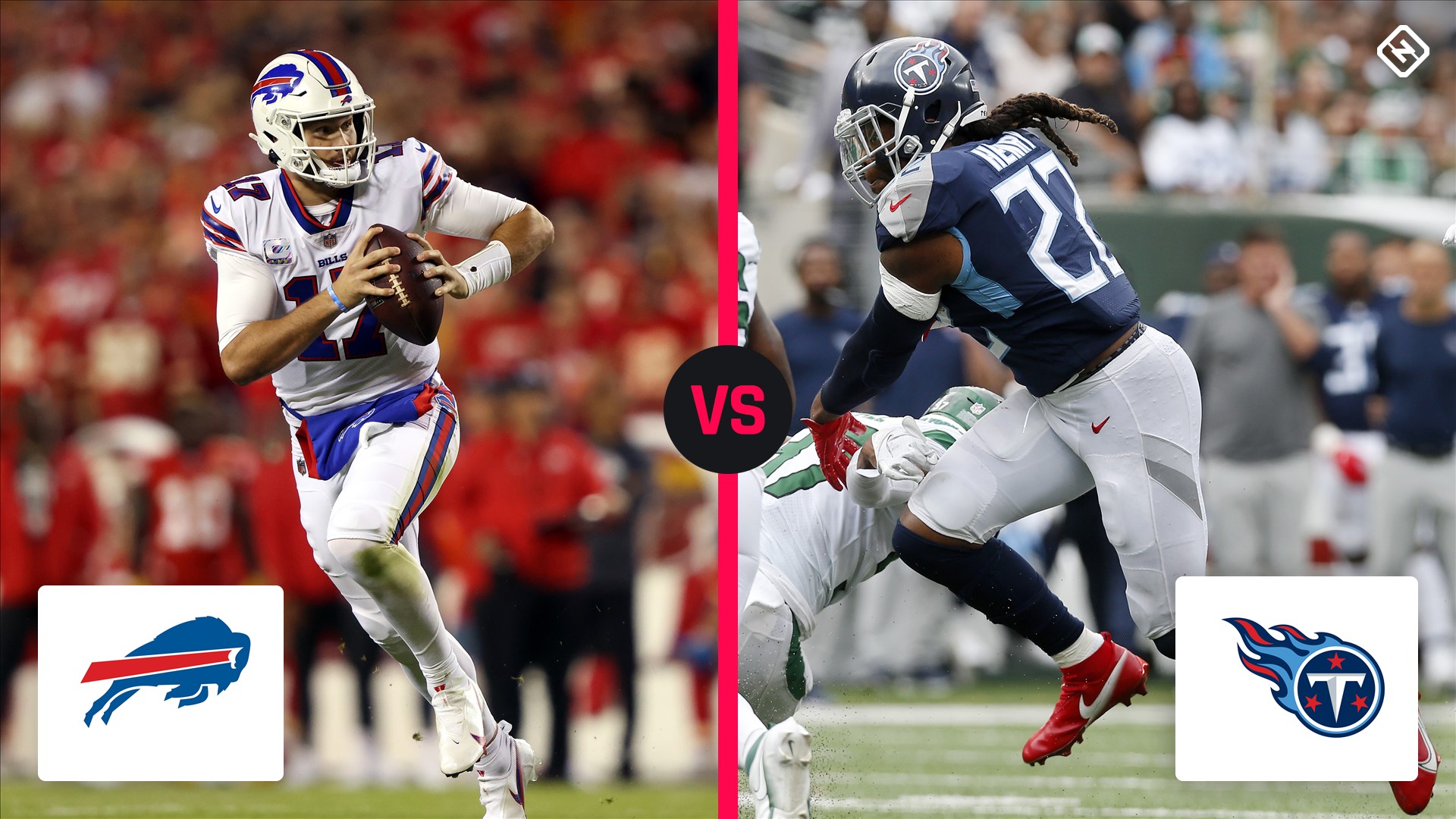 The Bills and Titans treated football fans to a great game and even better finish on "Monday Night Football," with Tennessee coming away with a narrow 34-31 victory.
It seemed at first as if Bills quarterback Josh Allen would dice up the Titans' secondary, especially after several Tennessee defensive backs went down during the game. But the home team held a bend-don't-break mentality that resulted in three field-goal drives for the Bills, two of which ended in the red zone. The defense came up big in the fourth quarter, holding Buffalo scoreless and stuffing an Allen sneak attempt on fourth-and-inches from the Tennessee 3 — with the Bills trailing 34-31 and only 22 seconds remaining:
The Titans' offense had to do its part, too, and no one was more important in that effort than Derrick Henry. He had a fifth straight game with at least 113 rushing yards, carrying the ball 20 times for 143 yards and scores of 76, 3 and 13 yards, the last the game-winner. Tennessee scored on six of its last eight drives, three of which were touchdowns.
Ryan Tannehill was big, too, rushing for a 4-yard touchdown to give the Titans a 17-13 first-half lead. He completed 18 of 29 passes for 216 yards and an interception. Receivers A.J. Brown (seven receptions, 91 yards) and Julio Jones (three receptions, 59 yards) had timely catches as well.
Allen completed 35 of 47 passes for 353 yards and three touchdowns to one interception. Emmanuel Sanders (five receptions, 91 yards), Stefon Diggs (nine receptions, 89 yards, one touchdown) and Cole Beasley (seven receptions, 88 yards, one touchdown) all had good games as well.
Sporting News tracked scoring updates and highlights from Bills vs. Titans on "Monday Night Football." Check out complete results from the NFL Week 6 game:
MORE: Watch NFL games live on fuboTV (7-day free trial)
Bills vs. Titans score
| | | | | | |
| --- | --- | --- | --- | --- | --- |
|   | Q1 | Q2 | Q3 | Q4 | F |
| Bills | 3 | 17 | 11 | 0 | 31 |
| Titans | 0 | 17 | 7 | 10 | 34 |
Bills vs. Titans live updates, highlights from 'Monday Night Football'
All times Eastern.
Final: Titans 34, Bills 31
11:22 p.m.: Victory formation from the Titans. What a game and what a win by Tennessee.
11:21 p.m.: TURNOVER ON DOWNS, BILLS. Allen slipped on the quarterback sneak and fell short. Jeffrey Simmons shot the gap perfectly and stopped him. Incredible defensive play at the perfect moment.
11:20 p.m.: Looks like the Bills are going to go for it on fourth-and-1 from the Titans 3 with 22 seconds left. Bills have used a timeout and have one left.
11:19 p.m.: Allen scrambles and leaps toward the first-down marker. He's ruled down a yard short but will the play be under review?
11:18 p.m.: Bills have third-and-6 from the Titans 8 with 38 seconds left. Huge play coming up.
11:14 p.m.: TWO-MINUTE WARNING. Buffalo has a 101-yard kick return touchdown by McKenzie nullified by a holding penalty, so it's forced to start at its 18. No worries for Allen and Co.: The QB gets the offense down to the Tennessee 39 in just two plays. He hits Sanders for 31 and Moss for 12.
11:10 p.m.: TOUCHDOWN, TITANS. Henry caps off a go-ahead drive (eight plays, 70 yards, 4:56) with a 13-yard power run with 3:05 to play. Bullock's PAT makes it 34-31, Titans. Buckle up.
11:08 p.m.: Tannehill finds Westbrook-Ikhine short over the middle on third-and-6 from the Buffalo 30. The play goes for 8 and a first down to the 22. Henry follows with a 9-yard catch to the 13.
11:05 p.m.: Tennessee gets to the Buffalo 34 with a pair of completions: Tannehill to Westbrook-Ikhine and Tannehill to Brown. Henry is thrown for a 1-yard loss on the next play.
11 p.m.: Allen tries to air it out deep down the middle but winds up throwing into double coverage and is almost intercepted. On the next play, he throws high and wide to Jake Kumerow, who catches the ball out of bounds. Buffalo then punts with 8:09 remaining.
10:56 p.m.: Almost a disaster for the Bills on the ensuing drive. Allen becomes a volleyball player after his pass attempt is batted into the air by a defender. He executes a two-handed block to avoid a possible interception. On the next play, he hits Diggs for a first down to the Buffalo 37. Tennessee was called for pass interference, which Buffalo declined.
10:55 p.m.: FIELD GOAL, TITANS. Bullock hits from 38 three plays after Tennessee converts a long third down to the Bills' 25. A holding penalty by Rodger Saffold takes the momentum away. Tennessee cuts the Bills' lead to 31-27 with 9:45 remaining.
Third quarter: Bills 31, Titans 24
10:42 p.m.: Marcus Johnson gets a nice return to the Tennessee 35 after a 31-yard return. Henry gets a 3-yard gain on first-and-10 off the slip screen, ending the quarter.
10:38 p.m.: TOUCHDOWN, BILLS. Allen, with a defender in his face, finds tight end Tommy Sweeney in the back of the end zone. Then Buffalo throws the "Philly Special" at Tennessee for the 2-point conversion. The score and conversion makes it 31-24 Bills with 27 seconds remaining in the quarter.
10:37 p.m.: Beasley gets 4 on the quick strike. He's called short and the Bills run a play before officials can review. Allen takes a lick trying to sneak it in through the left. Third-and-goal.
10:36 p.m.: Titans try and pressure Allen but don't get anything on him. He throws to Diggs in the end zone, forcing Breon Borders to commit pass interference. That's a spot foul, giving the Bills first-and-goal at the 5.
10:33 p.m.: Titans force Bills into third-and-7 situation but now Jackson is down on the turf. That secondary is getting dangerously thin.
10:32 p.m.: And now Allen connects with Sanders for 15 yards to the Titans 47.
10:31 p.m.: Allen finds Beasley in the zone for a quick strike. That goes for 8 yards and nets a first down at the 37.
10:30 p.m.: False start makes it third-and-6 Bills at their 29.
10:29 p.m.: Touchback. Bills' ball, 25.
10:25 p.m.: TOUCHDOWN, TITANS. Henry is a hard man to bring down. He's hit high in the backfield working left by Star Lotulelei, but he just refuses to give up en route to the 3-yard score. It's 24-23 Titans with 4:23 in the third.
10:24 p.m.: Allen finds tight end Geoff Swaim on the sideline for an 8-yard gain to the Bills 3. First-and-goal.
10:23 p.m.: No Henry run on fourth-and-short, but a nice connection between Tannehill and Brown for the latter's third catch of the day. That goes for 14 yards to the Bills 15.
10:22 p.m.: Brown gets his second catch of the game for 8 yards. Looks like they're going for it with fourth-and-2 from the 29.
10:20 p.m.: False start and neutral zone infraction back to back gives Titans first-and-10, again, at the 37.
10:18 p.m.: Another big Henry run on second-and-10 goes for 19 yards to the Bill 37. Hyde got bowled over but saved a touchdown.
10:17 p.m.: Henry's hit at the line of scrimmage and literally leans for a 3-yard gain to convert first down. Titans moving at their 44.
10:16 p.m.: Hill finds A.J. Brown for an 8-yard connection on first down. That's his first reception of the night.
10:15 p.m.: Rogers gets. 24-yard return on the kickoff, but there's a flag on the field. Poyer is called for illegal use of hands to the face, giving the Titans the ball at their 33.
10:12 p.m.: FIELD GOAL, BILLS. Bass hits a wobbler from 52 yards out, but it ends up true. That makes it 23-17 Bills at the 10:54 mark in the third.
10:11 p.m.: Titans hold strong on third-and-6 from the Tennessee 34. They get a little pressure on Allen and force an errant throw to Beasley, who can't haul it in at the first down marker.
10:10 p.m.: Allen to Beasley for 18 yards to the Titans 38. Titans getting no pressure on the quarterback early in the second.
10:09 p.m.: Allen to Knox for 11 yards to the Buffalo 44.
10:08 p.m.: Bills convert third-and-4 with an Allen connection to, who else, Diggs. It goes for 9 yards to the Buffalo 33.
10:07 p.m.: Buffalo gets started at its 17-yard line.
Halftime: Bills 20, Titans 17
9:53 p.m.: Halftime stats:
Total yards: Bills 244; Titans 171
First downs: Bills 17; Titans 5
Rushing: Bills 15 attempts, 60 yards; Titans 10 attempts, 100 yards
Passing: Bills 19 for 25, 184 yards, 2 TDs, 1 INT; Titans 4 for 12, 71 yards, 1 INT
Penalties: Bills 4 for 30; Titans 4 for 37
Turnovers: Bills 1, Titans 1
Time of possession: Bills 20:15; Titans 9:15
9:52 p.m.: Looks like the Titans are content to let the clock run out with all the injuries they're piling up. Henry rushes for 6 yards to the 25 and that'll do it. Strange sequence to end the game.
9:50 p.m.: Batson is injured on the return after running headlong into his own player. He's yelling and grabbing his right knee. On replay it looks like a non-contact injury.
9:49 p.m.: Another curious situation for the Titans. They have 34 seconds and all three timeouts to attempt to get into field goal range but have the ball at their 19.
9:48 p.m.: TOUCHDOWN, BILLS. In the end, it doesn't matter. Allen rolls right to avoid pressure and finds Beasley wide open in the end zone. Looks like Jenkins thought he had help over the top. Either way, the 29-yard touchdown on third-and-13 gives the Bills a 20-17 lead with 40 seconds in the half.
9:47 p.m.: Spencer Brown is called for a false start, and good thing for the Titans. Allen connected with Diggs for what would have been a touchdown.
9:46 p.m.: Allen's pass bounces off Zack Moss's hands and Amani Hooker nearly snags an interception. Third-and-8 with 47 seconds remaining.
9:45 p.m.: Timeout, Buffalo (0:53). Bills have it second-and-8 from the 24.
9:45 p.m.: Allen to Diggs for 12 yards to the Tennessee 27. The clock is ticking toward 1 minute left in the half.
9:44 p.m.: Interesting situation here. Titans will want to avoid a late touchdown as the Bills get the ball back after halftime.
9:41 p.m.: Two-minute warning.
9:41 p.m.: Allen withstands the pressure and finds Diggs for a 16-yard gain on third-and-5. Great play there under duress to get a fresh set of downs at the Titans 41.
9:39 p.m.: Allen shows off his own wheels with a 5-yard keeper to convert on second-and-3. Bills driving at their 37.
9:36 p.m.: TOUCHDOWN, TITANS. Tannehill keeps it on a zone-read and fights ahead for a 4-yard touchdown, breaking through a would-be Poyer tackle. that makes it 17-13 Titans with 4:23 left in the half.
9:34 p.m.: Lewan is being carted off after getting stabilized. He gives a thumbs up and then does the "aloha" sign. Hope everything turns out OK.
9:30 p.m.: Scary situation down on the field. Taylor Lewan is down on the field and motionless. He may need to be carted off.
9:29 p.m.: INTERCEPTION, TITANS. Allen is hit from behind by Denico Autry and Kevin Byard picks off the wobbler to return it 16 yards to the Buffalo 11.
9:26 p.m.: FIELD GOAL, TITANS. Tennessee makes the most of Jones' catch and nets a field goal. Randy Bullock sinks it from 43 yards to make it 13-10 Bills with 5:04 in the quarter.
9:26 p.m.: Tannehill had Jones open but somehow overthrew him. That was a touchdown waiting to happen.
9:25 p.m.: Henry gets a nice stiff arm on Mario Addison but is brought down for a 3-yard loss by Tremaine Edmunds.
9:23 p.m.: A lot to unpack on that play. Titans get a free play because of a Bill offside, then Allen targets Jones downfield. Micah Hyde is called for pass interference, but somehow the ball bounces off his head for Jones to grab it at the Bills 29. Incredible.
9:21 p.m.: Titans are called for holding, though Buffalo again trusts its defense to hold on third-and-8, declining the penalty. Titans coach Mike Vrabel looks exasperated.
9:20 p.m.: Titans back to work at the 21.
9:18 p.m.: TOUCHDOWN, BILLS. They finally get to the end zone, with Allen picking on Jenkins to get a 14-yard touchdown pass to Diggs. That makes it 13-7 Bills with 7:54 remaining in the half.
9:17 p.m.: Allen to Sanders again for 19 yards to the Titans 16. Bills are in the red zone and, barring any penalties, can get one more first down without a touchdown.
9:14 p.m.: Titans cornerback Caleb Farley's down on the ground.
9:13 p.m.: Allen has good protection in the pocket and finds Sanders in the zone for 21 yards to the Tennessee 35.
9:11 p.m.: Bad sequence there for Titans. They get a sack on Allen, but Long Jr. comes in after the play (officials were blowing it dead as he came in) and hit the quarterback late. So instead of third-and-long, Bills have it first-and-10 at the 41.
9:10 p.m.: Back to work for the Bills from their 32.
9:06 p.m.: TOUCHDOWN, TITANS. Speak of the devil. Henry bounces off Poyer and rumbles for a 76-yard touchdown run on the first carry of the drive. The PAT makes it 7-6 Titans with 11:20 left in the half.
9:05 p.m.: Titans are back at it from their 24. Offense needs to get something going here.
9:01 p.m.: FIELD GOAL, BILLS. Bass is 2 for 2 on the day, sinking this from 28. It's 6-0 Bills with 11:39 left to play in the half.
9:01 p.m.: Titans again make a red-zone stop. Allen threw a wobbler to Diggs, who dropped it in the end zone. Titans wanted offensive pass interference against him, but hold regardless.
8:59 p.m.: And now Emmanuel Sanders is called for holding on what would have been a Knox endaround for a touchdown. Bills backed up to the 15.
8:58 p.m.: Jackrabbit Jenkins is called for pass interference, giving Buffalo first-and-goal on the 5.
8:57 p.m.: Allen stands in the pocket and takes a hit by David Long Jr., but delivers it to Diggs for 7 yards on third-and-5 down to the 12.
8:55 p.m.: Allen finds Singletary underneath for a 6-yard gain to convert. Bills still driving at the 24.
First quarter: Bills 3, Titans 0
8:52 p.m.: Buffalo wastes no time as Allen finds Dawson Knox for an 11-yard gain to the 37. Following that, Singletary 7 yards down to the Tennessee 30 to end the quarter. It's 3-0 Buffalo, but the Bills have thoroughly outplayed their opponent thus far.
8:51 p.m.: INTERCEPTION, BILLS. Tannehill attempted to find Jones, but got intercepted by safety Jordan Poyer instead. He returns it 17 yards to the Titans 48. Tannehill had Henry free in the flats for what would have been an easy conversion.
8:50 p.m.: Tannehill finds Julio Jones for the first time for 6 yards. He limps off after getting hit immediately.
8:48 p.m.: Tre'Davious White is called for defensive holding, giving the Titans 5 yards and an automatic first down. They take that over an 8-yard completion to Henry.
8:44 p.m.: Oh boy. Titans waste potentially great field position by going for another Music City Miracle attempt. Chester Rogers throws an illegal forward pass to Chris Jackson. That's a 5-yard penalty at the spot of the foul, which will put Tennessee at the 34.
8:43 p.m.: The defense comes up big for Tennessee, as Harold Landry breaks through a double-team to sack Allen for an 8-yard loss. Buffalo will punt from fourth-and-18 after the three-and-out.
8:38 p.m.: A good return by the Bills is offset by both an illegal block in the back and holding. The Titans accept the holding penalty to give Buffalo the ball at its 21.
8:38 p.m.: Titans can't convert, and they punt again.
8:36 p.m.: That slip screen to Henry is horribly executed; Henry trips on Nate Davis' ankle and falls down, though it wouldn't have mattered considering an illegal man downfield penalty. The Bills decline the penalty to bring up third-and-6.
8:35 p.m.: Cameron Batson looked like he was going to throw the ball laterally a la the Music City Miracle. Thought better of it and was tackled at the 21.
8:32 p.m.: FIELD GOAL, BILLS. Tyler Bass knocks it through from 24 yards out to give the Bills a 3-0 lead with 6:10 in the first quarter.
8:31 p.m.: Titans bend but don't break, as Rashawn Evans spies Hill and forces him to throw the ball away. Field goal attempt upcoming.
8:30 p.m.: Bills face their first third down of the drive with third-and-3 at the Tennessee 5. They can convert without a touchdown.
8:29 p.m.: The Titans are offside, but Buffalo declines it as Diggs had a 6-yard reception for another first down. Bills driving at the 12.
8:28 p.m.: Allen to Beasley on another quick strike for 12 yards and another first down at the Titans 25. Tennessee has no answer defensively to start.
8:26 p.m.: Great run by Singletary, who avoided contact in the backfield and required three defenders to break him down after a 14-yard carry. First-and-10 Buffalo at the Tennessee 40.
8:25 p.m.: Devin Singletary gets 1 yard for a first-down conversion at the 31; Allen then targets Stefon Diggs for 12 yards out to the Buffalo 42.
8:24 p.m.: Allen goes for a quick strike to Cole Beasley, who gets 9 yards on his first reception of the day.
8:21 p.m.: Tannehill targets Marcus Johnson, but cornerback Levi Wallace breaks up the completion. The Bills will take over at their 21 after Johnny Townsend's punt goes for 63 yards.
8:19 p.m.: Ryan Tannehill gets a quick shuffle pass out to tight end Anthony Firkser for 11 yards on third-and-11 to get a new set of downs. Per the ESPN broadcast, that's only the second conversion of third-and-10 or longer allowed by this Buffalo defense on 22 attempts.
8:16 p.m.: The Bills' kick is short, but the Titans don't get much out of it. Add to that a 10-yard holding penalty and Tennessee will start at its own 10.
8:15 p.m.: The Bills have won the toss and elected to defer. The Titans will receive the ball to start the game.
Bills vs. Titans start time
Date: Monday, Oct. 18
Kickoff: 8:15 p.m. ET
The Bills-Titans matchup will kick off at 8:15 p.m. ET at Nissan Stadium in Nashville, Tenn. All "Monday Night Football" games in 2021 are scheduled to begin at 8:15 p.m. ET.
How to watch Monday Night Football
Week 6 will end with the Bills facing the Titans on "Monday Night Football," with Steve Levy set to handle play-by-play and Brian Griese and Louis Riddick providing analysis on the ESPN broadcast. Lisa Salters will be the sideline reporter for the game while former NFL referee John Parry will be the rules analyst.
This will not be a ManningCast, as Peyton and Eli Manning will be off for the third straight week. They'll return to ESPN2 for Week 7 with the Seahawks taking on the Saints on "Monday Night Football."
Streaming audiences can watch the game on the ESPN app, using ESPN+ or by using fuboTV, which offers a 7-day free trial.
'Monday Night Football' schedule 2021
| | | |
| --- | --- | --- |
| Week | Date | Matchup |
| Week 1 | Sept. 13 | Las Vegas Raiders vs. Baltimore Ravens |
| Week 2 | Sept. 20 | Green Bay Packers vs. Detroit Lions |
| Week 3 | Sept. 27 | Dallas Cowboys vs. Philadelphia Eagles |
| Week 4 | Oct. 4 | Los Angeles Chargers vs. Las Vegas Raiders |
| Week 5 | Oct. 11 | Baltimore Ravens vs. Indianapolis Colts |
| Week 6 | Oct. 18 | Tennessee Titans vs. Buffalo Bills |
| Week 7 | Oct. 25 | Seattle Seahawks vs. New Orleans Saints |
| Week 8 | Nov. 1 | Kansas City Chiefs vs. New York Giants |
| Week 9 | Nov. 8 | Pittsburgh Steelers vs. Chicago Bears |
| Week 10 | Nov. 15 | San Francisco 49ers vs. Los Angeles Rams |
| Week 11 | Nov. 22 | Tampa Bay Buccaneers vs. New York Giants |
| Week 12 | Nov. 29 | Washington Football Team vs. Seattle Seahawks |
| Week 13 | Dec. 6 | Buffalo Bills vs. New England Patriots |
| Week 14 | Dec. 13 | Arizona Cardinals vs. Los Angeles Rams |
| Week 15 | Dec. 20 | Chicago Bears vs. Minnesota Vikings |
| Week 16 | Dec. 27 | New Orleans Saints vs. Miami Dolphins |
| Week 17 | Jan. 3 | Pittsburgh Steelers vs. Cleveland Browns |


[ad_2]

Source link